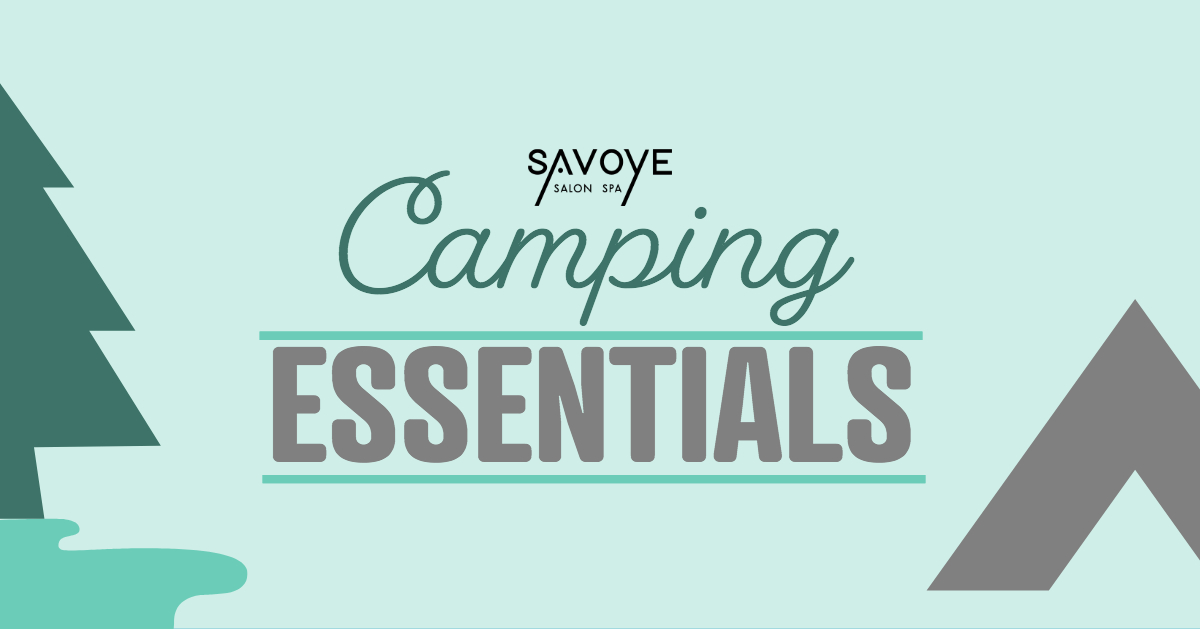 01 Jul

Top 10 Camping Essentials
Ahh… Summer.
The days are hot, the lake is cool, and campsites everywhere are abuzz. It's the perfect time to pitch a tent (or load up your camper) and reconnect with Mother Nature. We're gearing up for a long weekend here at Savoye, so we wanted to share our favorite adventure-friendly products that can turn camping into glamping. Or… At least keep your look as effortless as possible while you get out and explore!
Note: Each of the products listed below are available in our salon and on our online Aveda shop (link).
  For your hair

1. Dry Shampoo
Dry Shampoo is great for Day 2 (or 3) on the campsite when your hair is maybe not as luscious after sleeping on the ground. Sectioning pieces of your hair and gently squeezing the bottle will evenly distribute a light amount of product that's tasked with freshening up your look. It's subtle Shampure aroma will offer a little comfort of home, while pairing nicely with the fresh air.
2. Rinseless Refresh
If you have wavy or curly hair, you may want to reach for this product instead of Dry Shampoo. Rinseless Refresh uses micellar technology to absorb oils at the base while refreshing and moisturizing your curls. The sweet jasmine aroma will make you feel like a campsite goddess while you tousle your locks back into their most luxurious shape.
3. Paddle Brush Mini
This smaller version of the Aveda paddle brush fits is great for on-the-go. Manage the tangles before they get the best of you. If you have straighter hair, the wooden paddle brush is perfect. If you're wavy or curly, consider running a wide-toothed comb through wet hair and then scrunch it up to refresh your shape. Number one rule? Be gentle. Rough, fast brushing motions can break or damage hair, leaving you fussy and frizzy.
4. Texture Tonic
If you're dipping in the lake to cool off, you'll want Texture Tonic. A quick spritz and tousle in wet hair will give you beachy waves. We love how the ingredients leave your hair nourished, rather than being dried out. We recommend this over your sea salt spray any day!
5. Sun Veil Mist
Our team swears by the entire Sun Care line, but our absolute favorite is the Sun Veil Mist. The UV protectant is water-resistant and adds nice shine to finished styles. It leaves hair feeling soft and works as a great detangler while emitting a soft, citrus aroma.
6. Air Control
We all know and love the flexible hold Air Control can give. However, and you didn't hear this from us, rumor has it that mosquitos hate Air Control. If you must bring hairspray to the woods with you, maybe this is the one you're looking for! Just make sure you keep it away from the campfire.
  For your skin

7. Daily Light Guard
Sunscreen, sunscreen, sunscreen. We will preach this until our last breath. Daily Light Guard only takes one or two drops to protect your entire face, and its powdery finish is refreshing compared to the oily feeling of other sunscreens on the market.
8. Lip Saver
This soothing balm is moisturizing and healing for your lips. It's one of our most popular products, ever! Cinnamon leaf, clove and anise oils lend this product its signature aroma and subtle flavor. We love that it goes on smooth and refreshes dry lips on a hike, on the boat, or anywhere lips might start to feel dry. The name says it all!
9. Nourish-Mint Rehydrating Lip Glaze
If you want to add a little glam and shine to your camping routine, these nourishing glosses are the perfect choice. Available in 12 colors, this gloss haa a refreshing peppermint, vanilla, and ginger flavor. You'll be glowing with its high shine finish and plumping effect.
Cross-Over Champion

10. Dry Remedy Oil
Last, but not least, we have Dry Remedy Oil. This little bottle slips into any bag, and it's a great pick-me-up for your hair after a long day of playing in the sun and wind. Two drops will nourish your dried out locks and add shine at the same time. But do you know the secret that makes it our cross-over champion? The silicone-free formula completely absorbs into the skin, making it perfect to use as a cuticle oil for your hands and toes. So pop this in your rucksack and say goodbye to dryness!
Comments
comments